Victoria Sapa Resort Hotel

Address:
Sapa District, Lao Cai Province, Vietnam
Phone:
203 872 606 ; Fax: 0203 872 136; Hotline: 0984 353 577 - 0912 410 410
Email:
Number Room:
Hotel Area:
The four star Victoria Sapa Resort, the only luxury hotel in North-Western Vietnam, opened in March 1998. Built as a traditional mountain chalet with accented wooden décor and a welcoming stone hearth fireplace, the Victoria Sapa Resort overhangs the village, blending perfectly with the natural surroundings.
Room Amenities

Hotel Facilities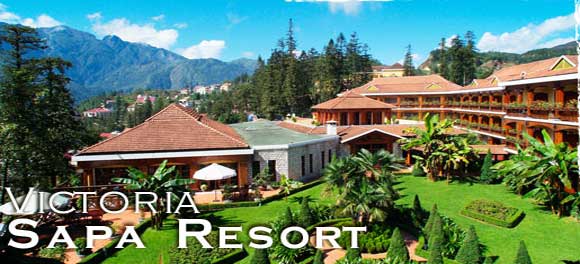 Originally Overviewa French hill station, this outstanding hotel is set amidst a breathtaking
landscape of mountains and rolling hills just south of the highest mountain not only in Vietnam but the entire Indochina Peninsula – Mt Fansipan.
The hotel itself is perched on a hilltop looking down into the valley and blends effortlessly with its natural surroundings. Great for those wishing to get "out there" without compromising comfort. From the stone walls of the exterior to the delicate finishes in the rooms, this is without a doubt Sapa's finest accommodation.
The rich wooden floors in the rooms is complimented by strong wall colours and accented by local weavings and fine wooden detailing. The perfect way to incorporate the local hill tribe culture. This gives the whole place an elevated level of style but also acknowledges the areas diverse cultural heritage.
Set around a central courtyard area, the rooms and suites are decorated in line with the overall dcor of the common areas theme of deep warming colours, stone and woodwork. A colonial style is cleverly combined here too, reminding guests of the French colonization of Vietnam, so evident from much of the countries architecture. Views from the hotel down into Sapa town have some gorgeous examples of the well kept French styled buidings harking back to days gone by.
Getting here is no mean feat – a 9 hour road journey or 10 hours on the hotel's own train, the Victoria Express. But this stunning location is definitely worth it. The Victoria Sapa Hotel is ideal for discovering local hill tribe minorities and small villages.
There is some very interesting trekking to be done here and the scenery is mind blowing. Every day is market day but, particularly at the weekend when the colourful H'mong and Dzao hill tribe people travel down the mountain to sell their colourful embroidery clothing and silver jewelry at the weekend market.
Rooms:
The Victoria Sapa Resort features 77 cosy rooms, including two spacious Suites and Family Studios on the upper level, each with a balcony offering breathtaking views. Each room combines the elegance of local traditional handicraft with the comfort of an international hotel.
Superior Room:
Victoria Sapa Resort features 21 spacious 25m2 rooms with queen size bed or twin bed, a comfortable sitting area with sofa and a large writing desk. All rooms are at garden level and feature a terrace with sofa.
Deluxe Room:
Victoria Sapa Resort features 52 spacious 25m2 rooms with queen size bed or twin beds, a comfortable sitting area with sofa and a large writing desk. All rooms feature a balcony, with sofa, overlooking Mount Fansipan.
Family Studio:
Victoria Sapa Resort features 2 spacious 50m2 Family Studios which sleep 5 guests, with a queen size bed and 3 single beds, a sitting area with sofa and a large writing desk. All Victoria Family Studios offer large balcony with sofa, overlooking the village of Sapa and Mount Fansipan.
Suite:
Victoria Sapa Resort features 2 spacious 50m2 suites with king size bed, a large living room area with sofa and a large writing desk. All Victoria Suites offer large balcony with sofa, overlooking the village of Sapa and Mount Fansipan
THE RESTAURANT AND BAR :
Ta Van restaurant: This resrtaurant is capacity for 110 seats and has a large central fireplace with spectacular mountain views from the terrace. European and Asian cuisines. Specialties are Cheese Raclette and Fondue.
Ta Fin bar: This bar is open in the evening, enjoy a glass of hot red wine by the fireplace. In here you can relax and unwind with a fine drink after a tiring day.
Cat Cat pool bar: enjoy refreshing drinks and light snacks by the swimming pool or savour barbecued dishes in our gardens all while taking in the magnificent panoramic views of Sapa and of its surrounding mountains.
MEETING AND CONFERENCE FACILITIES:
With a fully equipped meeting room, Victoria Sapa Hotel is an ideal choice for conferences, meetings, seminars and incentive groups for up to 100 persons.
Conference room features tripod screen, Overhead projector, Slide projector, Microphone, Colour Television, Video player, Integrated sound system, Fax machine, Flip chart and White board for your convenience.
RECREATION:
Mountain trekking is the most exciting, interesting activity, exploring the mountain villages. Russian jeep (3 seats), mini bus (15 seats) are available with drivers. Mountain bikes are also available for guests who want to explore different pursuits by themselves.
You can keeping your body in shape at the hotel swimmming pool overlooking Sapa Village and tennis court. In here you can make yourself relax with several exercise. You can relax and unwind with massage, sauna and spa service, are ideal for guests who wish to simply relax after a hard working day or you can enjoy with billiards and ptanque.
Location:
The resort is located in Sapa, 380 kms Northwest of Hanoi, among the Hoang Lien Mountains, in Lao Cai Province, near the Chinese border. It is 1,650 meters above sea level, famous for its pristine environment, unparalleled scenery and cool climate.
Other hotels
Amazing Hotel Sapa
Dong Loi Road, Sapa Town, Sapa District, Lao Cai Province
Sapa Muong Thanh hotel
No. 44, Five Only Son, Sapa town, Lao Cai