Summit hotel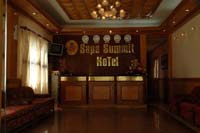 Address:
10 Thac Bac, Sapa town, Sapa
Phone:
203 872 606; Fax: 0203 872 136; Hotline: 0984 353 577 - 0912 410 410
Email:
Number Room:
Hotel Area:
Sapa Summit Hotel to attract tourists by the morning sun shining washed into cold rooms cold weather eased the Sapa area. If you come to a Summit Hotel you will have some great moments of relaxation between peaceful place is not noisy, not noisy like other cities. Peaceful, relaxing will make you happy
Room Amenities

Hotel Facilities
Sapa Summit Hotel consists of 40 class rooms including standard, superior and deluxe. The rooms are equipped with modern and offers you warm and familiar like living in their own homes. From your room you can see the beautiful tranquil beauty of Sapa.
In particular, in Sapa Summit Hotel you can enjoy the taste of food mountains northwest locals bold or unique dishes from Europe, Asia.
Location
The hotel is located in the heart of Sapa.
Only a short walk one can come to your church Ethnic, local markets and in turn unleash selection of unique local produce.