Thien Ngan Hotel
Address:
021 Cau May St., Sapa Town, Lao cai Province, Vietnam
Phone:
(84-20) 387 2606 ; Fax: (84-4) 387 2136 ; Mobile: (84-98)4 353 577 or (84-09)12 410 410
Email:
Number Room:
Hotel Area:
Thien Ngan is a 2-star hotel, which was opened in the beginning of 2007. It is located right in the centre of town, and surrounded by a series of tourism services and the Sapa market. It allows easy access to sights around the town.
Room Amenities

Hotel Facilities
Thien Ngan has 20 rooms with 18 superior rooms and 2 VIP rooms, with balconies offering views down to the town and the mountain landscapes.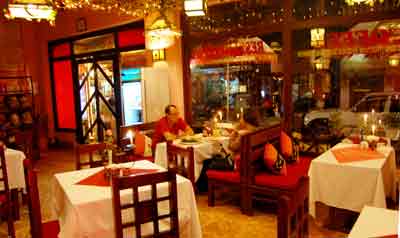 It is a new hotel, designed in harmony with the architecture of Sapa mountain town. The hotel is located on the famous Cau May street, near the Sapa market and the Church.
Inside, the hotel has a restaurant which serves exquisite meals of all the local specialties. The handicraft shop offers visitors memorable souvenirs of Sapa.
Location

Thien Ngan Hotel has one of the best positions in Sapa. It is located right in the centre of town in the "Old Walking Street" of Cau May.
It is opposite the Sapa market and 5 minutes from the Sapa Church. The hotel has a range of restaurants, souvenir shops, tour companies, and other shops in close proximity.
Facilities & Services
The restaurant serves the best food in Vietnamese and Western style and also serves local specialities. The restaurant is luxurious and has a nice ambience. Besides, the hotel also has a handicraft shop showing all hand-made products of five ethnic groups in Sapa.
In cooperation with TIPC of Sapa and the tour companies in Sapa, Thien Ngan provides tours and transportation for visits around Sapa.
Facilities:
• Back-up Power Generator
• Non-smoking rooms/floors
• Banquet facilities
• Driver's accommodation
• Restaurant(s)
• Bar(s)
• Souvenir/Gift Shop(s)
• Café/Coffee shop
• Lobby lounge/Bar
Services:
• Fax/photocopying
• Room service (24hr)
• Foreign Currency exchange
• Airport/Bus/Train/Ferry transfer (Paid)
• Hotel safe
• Laundry/Drycleaning/Ironing
• Car/Motorbike/Bicycle rental
• Newspapers / Magazines
• Doctor/Nurse (On-call)
• Pets allowed
• Driver's accommodation
• Postal/Courier service
• Electricity adaptors / Transformers
• Room service
Languages Spoken:
• English
• French
• Vietnamese
Room types
VIP rooms
Number: 4 VIP rooms
Type of bed: 01 Double
Max Occupancy: 02 pax
Breakfast: included
Rate: 35 USD
VIP is a double room with the best view to the town and to the mountain. The room is confortable, full of sunlight in summer and warm in winter.
Room amenities: , Alarm/Clock Radio, Slippers, Balcony, Fruitbasket/Flowers, TV - Cable/Satellite, Bathroom-Private: Bathtub, Hair dryer - On request, TV - Local only, Hot and Cold Water, Table Lamp, Coffee/Tea-making facilities, Telephone, Telephone - IDD , Daily Newspaper, Toiletries, Umbrella, Dressing table, Mineral/Bottled Water, Mosquito nets, Ensuite, Work/Writing desk, Heater, iron on request
Superior rooms
Number: 16 Superior rooms
Type of bed: 02 Sigle beds (Twin rooms)
Max Occupancy: 02 pax
Breakfast: included
Rate: 30 USD
18 superior tiwn rooms answer to the criteria of room in 2 stars hotel. All rooms has bancony and view to the town and the mountain. It is always clean and confortable.
Room amenities: Alarm/Clock Radio, Slippers, Balcony, Fruitbasket/Flowers, TV - Cable/Satellite, Bathroom-Private: Bathtub, Hair dryer - On request, TV - Local only, Hot and Cold Water, Table Lamp, Coffee/Tea-making facilities, Telephone, Telephone - IDD , Daily Newspaper, Toiletries, Umbrella, Dressing table, Mineral/Bottled Water, Mosquito nets, Ensuite, Work/Writing desk, Heater, iron on request
Polycies and other infomation
Late check out policy: 100% of one night charged for late check out after 17:00
Policy on children staying with parents: Free for children under ten years of age, but there is a charge for breakfast
Cancellation Policy: 100% charge if cancelation is made with 3 days
Payment forms: Cash; VISA; MASTER; American Express; Diner Club
Check in time: 12:00
Check out time: 11:00